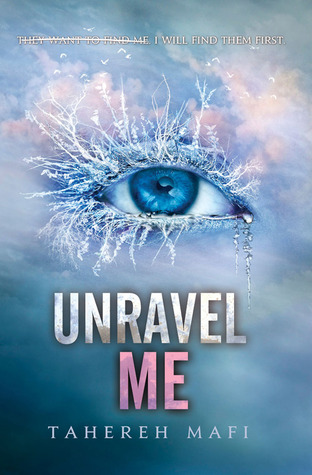 Title: Unravel Me (Shatter Me, #2)
Author: Tahereh Mafi
Format: eBook
Date Published: February 5, 2013 by HarperCollins
Rating: ★✰✰✰✰
Synopsis: tick
tick
tick
tick
tick
it's almost
time for war.
Juliette has escaped to Omega Point. It is a place for people like her—people with gifts—and it is also the headquarters of the rebel resistance.
She's finally free from The Reestablishment, free from their plan to use her as a weapon, and free to love Adam. But Juliette will never be free from her lethal touch.
Or from Warner, who wants Juliette more than she ever thought possible.
In this exhilarating sequel to Shatter Me, Juliette has to make life-changing decisions between what she wants and what she thinks is right. Decisions that might involve choosing between her heart—and Adam's life.
(taken from goodreads)
Overall, I did not find the book entertaining. Not at all! I originally thought that it would be better than the first despite the doubts and that maybe I should just not read it. It was probably worse than Shatter Me. The writing is still the same: similes, similes, metaphors, metaphors, strikethroughs, etc. While I found it interesting when I started reading Shatter Me, it just annoyed the hell out of me. It was frustrating. The book feels pretty long when there isn't really much in it. It's written like the way I write my essays – trying to pour in more and more words to make it longer and finally reaching the finish goal. By firsthand experience, I know stuff written that way doesn't pretty much have a good outcome. This book might be just one of those kind.
Juliette remains to be the most annoying and frustrating female protagonist I have ever known. Though I might have liked Warner in the previous book, I liked him less in this one for numerous reasons. And then there's Adam, who is equally annoying and frustrating as Juliette. Yes, these guys should date. But really, let's appreciate Kenji who is pretty much better than the other characters combined.
The book is so frustrating on so many levels. It revealed something that could have been made into something really big and yet they decided not to. Finishing this book really felt like joining a marathon and trying to crawl just to reach the finish line.
A friendly reminder that this section contains spoilers. And also, if you loved the series, you may not want to read the next parts because you might hate me. Hahaha.
Hey. So I usually do not post discussion posts* along with my reviews because I am basically babbling everything and try to squeeze them into my review, never mind the spoilers. However, this book has disappointed me and I just really want to break down the points which made me not like it and which made me give it a one-star rating. It's really sad how I thought I was starting my year great yet I stumbled upon these books right after reading a helluva great masterpiece.
* Plus, I'm not really sure if this would pass as a discussion post. Tehehe. :—)
the writing style
I know I have no right to judge how beautiful or ugly an author's writing style is. The fact that I have never even written a book or that my blog posts does not even seem like a real blog post, I think that bit just do not give me any right to judge. However, as a reader, I have my standards (chos!). The more I read books, I thinks it too gets higher. To be honest, there is a really great chance that I would love this book during my early years in reading (aka 3 years ago).
The book was written with overused similes and metaphors that could have been simplified because I don't really think they were necessary. I admit that at first I liked it but then it just went on and on and on and I've simply had my fill of it. It also liked to repeat words unnecessarily, maybe to try to express how Juliette feels but it later became annoying.
the plot
Was there a plot? No idea. Most parts of the books were about Juliette feeling sorry for herself and pitying about herself. Another part of the book was Juliette and Adam's relationship which was starting to break upon realizing that Adam isn't really immune to Juliette. Then we also have parts of Juliette and Warner and their intimate scenes which LITERALLY feels like it came from nowhere. The remaining part of the book, which feels like only 10% of the hundreds of pages, is the part where we get to know what was happening outside and about the war that was bound to happen.
The first half of the book. This is where Juliette continuously whines about her abilities, that she is a danger and that she is a monster and that she is a murderer. Not the exact words, really, but it was pretty much something like that. Did I like it? Obviously not. She's not even trying to make an effort to at least get along with her ROOMMATES. She's making her ability pretty much a big thing when there are so many things to pay attention to (like, I don't know. An upcoming war? Being discovered by The Reestablishment? Trying to make some use of her abilities?)
Romance and the love triangle. Can we please pay attention to the fact that Adam and Juliette's feelings to each other and Warner's affections for Juliette seem UNREALISTIC? First off, Adam. He's known Juliette when they were kids because they went to the same school together. But here's the thing: he never really talked to her backed then* and I think the only time they got to actually speak to each other was when Adam was sent to Juliette's cell in the first book. I don't believe that that is love, but a mere infatuation of a sad, teenage boy to a sad, isolated, teenage girl. Then we have Juliette. I don't think she is actually in love but maybe (just maybe) her system was shocked when someone paid attention to her not because she has a very lethal touch but because that person has feelings for her AND it was a person she's known before from afar. I mean, come to think of it. Juliette has been isolated for years and didn't even receive love from her own freaking parents because of her ability and then Adam just shows up**.
* I'm not sure if I'm remembering it correctly, but it was really like that WASN'T IT?
** My theory might sound cliche but it really feels like that!!!!!!!!
Okay so let's move on to Warner and his unrealistic and illogical feelings towards Juliette. So. It was mentioned that Warner fell in love with Juliette when he was observing her. A hasty generalization statement: it's like a scientist fell in love with his mouse. And can we not forget about the fact that Warner was TRAINED? How is it even possible for him to be so freaking head over heels with a person he's basically just observed for his experiment and that person he was observing was so broke and so damn isolated and lonely. HOW CAN HE BE IN LOVE JUST LIKE THAT????
The plot twist in a book with unclear plot. Soooo. It was revealed that Adam and Warner are brothers because they have the same father. Can we have a round of applause because this bit has a back story but it doesn't really make much sense because of their AGE and now I'm wondering if maybe Anderson is a god because he can be at two places at the same time. But then again, he's a man so yep. It's highly possible for him to have children with an age gap that's so close. ANYWAY! I don't get the sense or necessity why Adam and Warner has to be brothers. Are we going The Vampire Diaries here because the brothers will fight over a girl and the girl also has a diary which is in Warner's hands but doesn't really include any entries about these guys*. And also, I don't get why this bit about Anderson being Adam's father isn't being made an issue in this book because it could be and might lead us into a clearer path**.
* I guess.
** Another cliche from yours truly. Go kill me please!!!
Unnecessary intimate scenes. Can we talk about how Juliette and Adam are like some horny teenagers? I hate the way these scenes were written much more than I hate this book was written. As I've said earlier, I am not convinced about Juliette and Adam's feelings for each other so adding intimate scenes between the two hit my boiling point. It was frustrating me because, like I said, there are so many more things to be worried about. Juliette and Adam just feel the need to do something to each other even when the world is bound to end. And also. JULIETTE DOES NOT MAKE A GOOD WIFE. I hate how he let Warner do things to her and yet decides to call Adam instead of answering Warner. What's wrong with these characters, I have no idea.
Zero world building. Unravel Me is a dystopian novel and yet I failed to really see how their world was, mostly because Tahereh Mafi would rather write a novel with an endless self-pitying lead characters and love stories and a little bit of the world outside but still call it dystopian. It's frustrating on so many different levels because it's a terrible waste of time, reading about what was happening to Juliette when so many interesting things could have happened if we paid more attention to the actual world the characters live in rather than just staying inside Juliette's head.
the characters
I will keep it short and simple as I might have expressed my hatred towards the main characters of this book. Rather, I'd like to express how thankful I am that at least Tahereh Mafi managed to create a character like Kenji who was the only one who actually spoke the truth to Juliette and that he's the one who told Juliette what I was thinking.
a couple more extras…
Will you still read the third book? Hell no. I'm so done with this series.
What books/movies remind you of Shatter Me and Unravel Me? It's like a bad version of Red Queen and Glass Sword because brothers are on the same girl who has abilities*. It also reminds me of Titanic but not in terms of a successful film but in terms of unsuccessful ship**.
* Red Queen and Glass Sword are amazing novels by the way. And I don't really know if Maven is ACTUALLY in love with Mare.
** By ship, I meant book.
Should I read it? If you're feeling really poetic right now or if you have no issues on love triangles and romance, maybe you should. But, if you're looking for an adventure or some real entertainment, I suggest you forget this book ever existed.
Before I end this post, I would just like to apologize to the fans or the those who loves this series.
And  if you have read inaccuracies, please feel free to correct me. I don't claim as an expert in this book.