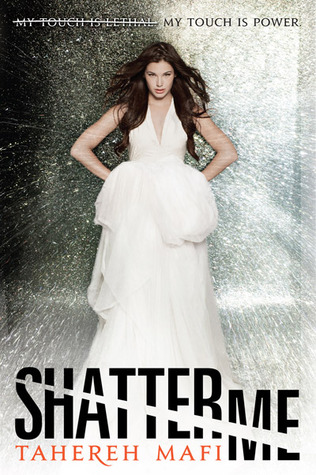 Title: Shatter Me (Shatter Me, #1)
Author: Tahereh Mafi
Format: eBook
Date Published: November 15, 2011 by Harper
Rating: ★★✰✰✰
Synopsis: I have a curse
I have a gift
I am a monster
I'm more than human
My touch is lethal
My touch is power
I am their weapon
I will fight back
Juliette hasn't touched anyone in exactly 264 days.
The last time she did, it was an accident, but The Reestablishment locked her up for murder. No one knows why Juliette's touch is fatal. As long as she doesn't hurt anyone else, no one really cares. The world is too busy crumbling to pieces to pay attention to a 17-year-old girl. Diseases are destroying the population, food is hard to find, birds don't fly anymore, and the clouds are the wrong color.
The Reestablishment said their way was the only way to fix things, so they threw Juliette in a cell. Now so many people are dead that the survivors are whispering war – and The Reestablishment has changed its mind. Maybe Juliette is more than a tortured soul stuffed into a poisonous body. Maybe she's exactly what they need right now.
Juliette has to make a choice: Be a weapon. Or be a warrior.
(taken from goodreads)
My main issue in the book is the way it was written and its plot, if there's any. At first, I kind of liked the way it was written – it was pretty interesting especially all those strikethroughs  because it felt like those were the real words that Juliette would have said. I did enjoy those for most parts of the book but what didn't entertain me was its flowery words and its similes and metaphors. I think it was overdid and annoyed the hell out of me at one point.
And then we don't have the plot. Seriously, it felt like there was NONE! Maybe I wasn't reading the book correctly, but even so, I didn't see the plot!! In most of the dystopian novels I read, they drop the bomb in the first book AKA it's obvious why they were doing those things to the protagonist. I have NO idea why Warner wants to have Juliette or if he really has feelings for Juliette. Was it mentioned in the book? Because if it was, I surely and clearly wasn't paying attention to the part (which sums up my interest in this book.)
The characters. JULIETTE, our female protagonist. Who has a touch that could kill people who would touch her, and is basically Rogue from X-Men. (And I haven't really seen X-Men, but wasn't Rogue the character who could also kill people with her touch? I think). The worst female protagonist I have ever known. (JULIETTE, not Rogue because I have no right to judge Rogue since I haven't really watched any X-Men movies). Then there's ADAM, the love interest. Who by the way could TOUCH her! And wait, he isn't the only one who could touch Juliette but we also have WARNER, the antagonist. Maybe. And perhaps another love interest.
OVERALL, I did not like the book and I seriously almost dozed off while reading. It was kind of like my bedtime story. The one that puts me off to sleep. The only reason why I gave it 2 stars is that I liked Warner (because he is pretty cute in his own ways and much better than Juliette and Adam combined) save for the fact that I don't know what his real intentions are. With a heavy heart (haha!), I will still try to give the next books a go. They said it was better than the first so I really hope it really is.