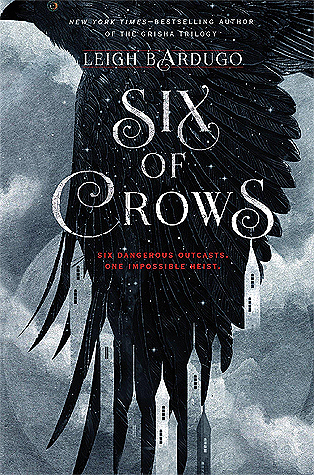 Title: Six of Crows (Six of Crows, #1)
Author: Leigh Bardugo
Format: Paperback
Date Published: September  29, 2015 by Harper Holt and Company
Rating: ⭐⭐⭐⭐⭐
Synopsis: Ketterdam: a bustling hub of international trade where anything can be had for the right price—and no one knows that better than criminal prodigy Kaz Brekker. Kaz is offered a chance at a deadly heist that could make him rich beyond his wildest dreams. But he can't pull it off alone…
A convict with a thirst for revenge
A sharpshooter who can't walk away from a wager
A runaway with a privileged past
A spy known as the Wraith
A Heartrender using her magic to survive the slums
A thief with a gift for unlikely escapes
Kaz's crew are the only ones who might stand between the world and destruction—if they don't kill each other first.
(taken from goodreads)
Well, this is a great way to start my year! I loved this book so much because it has so many adventures and also, trust issues (BECAUSE MATTHIAS AND NINA). Overall, it was a very amazing read.
Just a little back story, I tried starting to read Six of Crows during our semestral break but then school started and I had to put it on hold. Being the good girl that I am, whenever online, I go to Tumblr and just reblogs anything that has to do with Six of Crows! As a result, I couldn't wait to get my hands on this book again and finally read it! Yikes!
I love the way the book was written, it was in third person's point of view but it gives us  insights on what was happening among the characters. From one chapter to another, the story just gets better and then the next thing I knew I was almost done! It was easy to like the characters, ESPECIALLY JESPER (the love of my life) and of course, KAZ AND INEJ WHO I SHIP SO MUCH WITH ALL MY HEART. I don't think the romantic part of the book was the highlight among the highlights of this book. WHICH WAS GOOD! And then there's Wylan, who seems very clumsy to me but at the same time so, super cute! I don't really know what I feel towards Matthias and Nina because they were the reasons why I had trust issues in this book. My poor, little heart.
The story of the book was awesome! An impossible heist, and a very large money at the end of the mission. It has back stories which made it easier to understand why the characters became what they were. (and my favorite was kaz's!!) And then there were plot twists… GODS! THAT PLOT TWIST WHERE MY BABY WAS TAKEN AWAY FROM MY OTHER BABY. The ending of the book will make you want nothing but read the next one. The tension just got higher!! And Kaz is GOING TO GET HIS GIRL so who doesn't want to read the next one after that?! OMG.
Overall, I'm a mess and so is this review but I love this book so much and if you haven't read it yet you should definitely do!