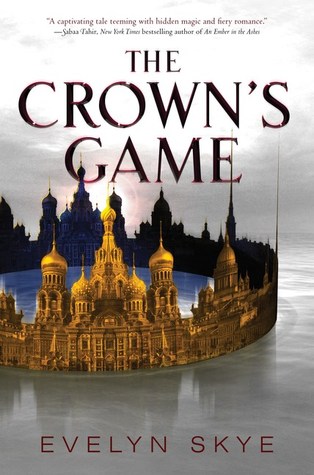 Title: The Crown's Game (The Crown's Game, #1)
Author: Evelyn Skye
Format: eBook
Date Published: May 17, 2016 by Balzer + Bray
Rating: ⭐….
Synopsis: Vika Andreyeva can summon the snow and turn ash into gold. Nikolai Karimov can see through walls and conjure bridges out of thin air. They are enchanters—the only two in Russia—and with the Ottoman Empire and the Kazakhs threatening, the Tsar needs a powerful enchanter by his side.
And so he initiates the Crown's Game, an ancient duel of magical skill—the greatest test an enchanter will ever know. The victor becomes the Imperial Enchanter and the Tsar's most respected adviser. The defeated is sentenced to death.
Raised on tiny Ovchinin Island her whole life, Vika is eager for the chance to show off her talent in the grand capital of Saint Petersburg. But can she kill another enchanter—even when his magic calls to her like nothing else ever has?
For Nikolai, an orphan, the Crown's Game is the chance of a lifetime. But his deadly opponent is a force to be reckoned with—beautiful, whip smart, imaginative—and he can't stop thinking about her.
And when Pasha, Nikolai's best friend and heir to the throne, also starts to fall for the mysterious enchantress, Nikolai must defeat the girl they both love… or be killed himself.
As long-buried secrets emerge, threatening the future of the empire, it becomes dangerously clear… the Crown's Game is not one to lose.
(taken from goodreads)
I finally finished this! I really feel like I spent a long time reading this, I was so slow in reading the book. There were actually days when I didn't read the book because I just couldn't get into it! From the moment when I learned both Vika and Nikolai want to be the Imperial Enchanter (and there is only to be one!) and that Nikolai and Pasha were bestfriends, I immediately thought Oh no. No, please don't be cliche. I felt like I know where things were going and I hoped that I was wrong. Yes, there were a few twists in the book but seriously, I didn't find it amazing or so entertaining or made the book seem good to me as a whole.
The Crown's Game has been said to be vicious (was that the word used? I totally forgot.) as enchanters have to fight off to death in order to become the Imperial Enchanter. Of course, poor Nessa (aka me) expected there will be a lot of fight scenes between the enchanters. Some bloody actions and fantastic magic whooshes and things beyond my imagination. But ha! Were the enchanters – Vika and Nikolai – 8 years old? I feel like what they did during their turns didn't do justice to how the Game was described. The Crown's Game might be pretty known because it was written in books, but it wasn't even done in public. Seriously what are we playing at? I might not have read a lot of fantasy books before but seriously, from what I imagined, a fight to death (of enchanters! people with magic!) did not involve making the streets look beautiful or making some magic dresses or something petty. If I, myself, possess magic of some sort, I would've laughed at these two. (I'm evil haha).
The romantic part of the book was not at all entertaining, or funny, or swoon worthy and it isn't even romantic! It was cheesy. Pasha, really. He acts like a prince in a Disney movie. Although yes, I love Disney princes but no Pasha just… don't. And it isn't Disney – it's a freaking alternate magical Russia thingy. I don't even know if there was a love triangle. Sure, both Pasha and Nikolai loved Vika but there wasn't even a chemistry (I didn't see it!), not the slightest bit! NO! And might I add: there was no instalove because it wasn't even love. It wasn't love, maybe they were just attracted. Ha, lemme change that. Attraction triangle.
Overall, I found the book boring and totally not exciting. I really hoped that the fight to death that happened was really a fight to death. The book already had fantasy elements! It could've been better. ALSO I didn't even get the ending but nevertheless, I am not really looking forward to the sequel. Brrrr!