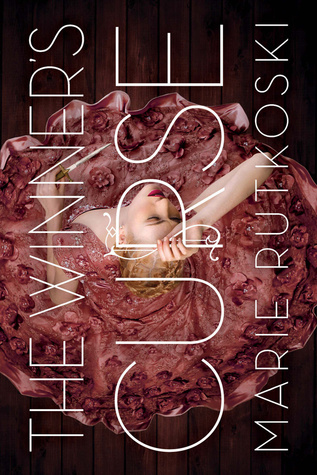 Title: The Winner's Curse (The Winner's Trilogy, #1)
Author: Marie Rutkoski
Format: eBook
Date Published: March 4, 2014 by Farrar Straus Giroux
Rating: ⭐⭐⭐
Synopsis: Winning what you want may cost you everything you love…
As a general's daughter in a vast empire that revels in war and enslaves those it conquers, seventeen-year-old Kestrel has two choices: she can join the military or get married. But Kestrel has other intentions.
One day, she is startled to find a kindred spirit in a young slave up for auction. Arin's eyes seem to defy everything and everyone. Following her instinct, Kestrel buys him—with unexpected consequences. It's not long before she has to hide her growing love for Arin.
But he, too, has a secret, and Kestrel quickly learns that the price she paid for a fellow human is much higher than she ever could have imagined.
Set in a richly imagined new world, The Winner's Curse by Marie Rutkoski is a story of deadly games where everything is at stake, and the gamble is whether you will keep your head or lose your heart.
(taken from goodreads)
As much as I wanted to love the book, I just can't do it. I had high expectations (geez, here we go again) for this one. Have you seen its ratings on goodreads?! And most of my goodreads friends rated it with either 4 or 5 stars. Who am I not to read the books with such high expectations? Haha.
Well, the first half was kind of… boring? I'm not sure if that's the right way of putting it but it was really slow. It's just like Kestrel going on with her wealthy life. When they went to the slave market and placed a bid on the blacksmith, which she later won, I was like "hey, here comes the love interest!" Sadly though, I totally did not feel the chemistry between Arin and Kestrel.
How many times have I rolled my eyes throughout the book? No idea. Seriously, I wondered why Kestrel never questioned why Arin went to the city. Visiting a "sweetheart" doesn't really play a good excuse, if I were asked. And… did Kestrel ever wondered whether maybe she was part of the reason why the Herrani were able to rebel against Valoria because of her (unintentionally) sharing of information to Arin? Did she? Because if yes, I guess I totally missed it.
The other half of the book was alright. Like, hell yeah baby. War! Rebels! Go kill each other. Still, I was not convinced of Kestrel and Arin's romantic relationship although yes, they kissed! I was really happy when the poisoning happened which unfortunately was short-lived. HOWEVER while I liked that things were going well for the Herrani, I was annoyed when they immediately surrendered or allied or agreed to the terms of the Valorian.
That ain't possible baby!
Overall, the book was an okay read – a good excuse to pass time. I really wish I loved it but I sadly did not. I felt numb whilst reading, LOL, seriously. I didn't really feel anything in the book, except for the happiness when the Valorians were poisoned.