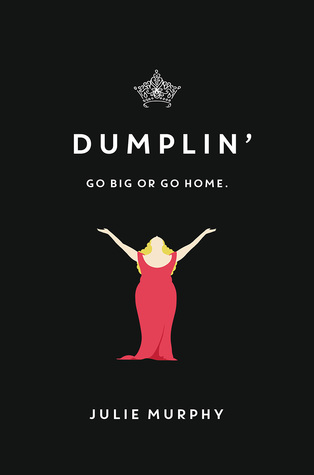 Title: Dumplin'
Author: Julie Murphy
Format: eBook
Date Published: September 15, 2015 by Balzer + Bray
Rating: ⭐⭐
Synopsis: Self-proclaimed fat girl Willowdean Dickson (dubbed "Dumplin'" by her former beauty queen mom) has always been at home in her own skin. Her thoughts on having the ultimate bikini body? Put a bikini on your body. With her all-American beauty best friend, Ellen, by her side, things have always worked…until Will takes a job at Harpy's, the local fast-food joint. There she meets Private School Bo, a hot former jock. Will isn't surprised to find herself attracted to Bo. But she is surprised when he seems to like her back.
Instead of finding new heights of self-assurance in her relationship with Bo, Will starts to doubt herself. So she sets out to take back her confidence by doing the most horrifying thing she can imagine: entering the Miss Clover City beauty pageant—along with several other unlikely candidates—to show the world that she deserves to be up there as much as any twiggy girl does. Along the way, she'll shock the hell out of Clover City—and maybe herself most of all.
With starry Texas nights, red candy suckers, Dolly Parton songs, and a wildly unforgettable heroine—Dumplin' is guaranteed to steal your heart.
(taken from goodreads)
Before reading the book, all I could think of was "FINALLY! A book whose main character is fat!" I mean, she's fat and I'm fat so I gotta feel some connections ya'know. I originally thought I'd have my confidence built after reading the book (because some books have that kind of power!). I had high expectations which sadly haven't been met.
Yes the book was about a fat teenager who joins a pageant to regain her confidence. But, on most parts, it was like a typical teenager who likes a guy who seems to like her back but not and then another guy showed up who seems to be interested in that girl! It's love triangle people!
Not that I hate love triangle but hey, I was expecting it to be some kind of a body-positive book and I was so not looking forward for a love triangle! That's like, the last thing I wanted to happen in this book! I don't think it's necessary, at all. What's the point of the love triangle, really? I hated it a lot because it made me feel that Willow isn't a fat fat person but one of those skinny people who still calls themselves fat! Except that there were people in the book who convinces/reminds me that she really is fat (ugh).
Though I hated that, I liked Ellen (Willowdean's bestfriend) and Willowdean's relationship. Best friends. Until their friendship sank because Willow got a bit self-centered. When El joined the pageant without Willow knowing it, she got angry. Willow made the pageant about her. Although I get her point, I still think it was mad of her to act that way. If her best friend is joining, why not? That does sound fun!
I kind of didn't like the pageant and how it ended. It felt rushed, like it's just one of those things that come and go. I didn't feel it happening. Then the book ended just like that. Like, wait that's it? The book didn't give me the satisfaction I wanted and didn't leave me wanting for more.
Overall, Dumplin' did not affect me the way I thought this book would. I was expecting for something big to happen but it did not happen. And no, it wasn't Willow losing her weight and being part of the sexy squad. I don't know "how to words" how I wanted it to ended but the thing is, it didn't end the way I thought it would. You shouldn't have expected a lot, Nessa!