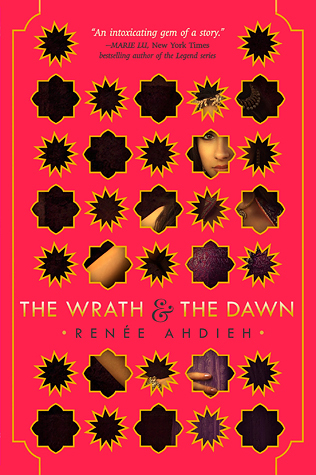 Title: The Wrath and The Dawn (The Wrath and The Dawn #1)
Author: Renee Ahdieh
Format: Paperback
Date Published: May 12, 2015 by G. P Putnam's Sons Books for Young Readers
Rating: ⭐⭐⭐⭐⭐
Synopsis: One Life to One Dawn.
In a land ruled by a murderous boy-king, each dawn brings heartache to a new family. Khalid, the eighteen-year-old Caliph of Khorasan, is a monster. Each night he takes a new bride only to have a silk cord wrapped around her throat come morning. When sixteen-year-old Shahrzad's dearest friend falls victim to Khalid, Shahrzad vows vengeance and volunteers to be his next bride. Shahrzad is determined not only to stay alive, but to end the caliph's reign of terror once and for all.
Night after night, Shahrzad beguiles Khalid, weaving stories that enchant, ensuring her survival, though she knows each dawn could be her last. But something she never expected begins to happen: Khalid is nothing like what she'd imagined him to be. This monster is a boy with a tormented heart. Incredibly, Shahrzad finds herself falling in love. How is this possible? It's an unforgivable betrayal. Still, Shahrzad has come to understand all is not as it seems in this palace of marble and stone. She resolves to uncover whatever secrets lurk and, despite her love, be ready to take Khalid's life as retribution for the many lives he's stolen. Can their love survive this world of stories and secrets?
Inspired by A Thousand and One Nights, The Wrath and the Dawn is a sumptuous and enthralling read from beginning to end.
(taken from goodreads)
First of all people, I loved the book so much I didn't want it to end so I did my best to read it I think I failed though.
After reading, I felt enchanted and I was all like…
I read the book not because I was attracted to its cover (GOSH THE COVER MAKES ME FEEL UNCOMFORTABLE THE MORE I STARE AT IT) but because most of my friends on Goodreads have read the book and rated it between 4 to 5 stars.
So now, I know.
I couldn't begin to ponder how much I love the book, its characters, and the way it was written. The Wrath and The Dawn was an easy read. The most confusing part of the book was that I wondered how to properly pronounce the characters' names. I tried to overcome it and hopefully I got the pronunciations right.
I loved Renee Ahdieh's writing style. Her words of choosing were very captivating and compelling. Although some of the words used were unfamiliar to me and I'm not exactly fluent in the English language, it did not become a hindrance for me loving the book. It was hard to resist not reading the book once I started it. Seriously hard.
Shahrzad and Tariq's relationship might have been my hatest part of the book. Although at first I liked the pair, I found myself hating the two together on the later parts of the book. Obviously, I love Shahrzad and Khalid more. I love how their relationship developed from when Shahrzad volunteered to be Khalid until that last page.
Speaking of the last page, oh boy, that was a major CLIFFHANGER. You know how my emotions went dug-dug-dug and then I counted the pages left and I almost shouted "YOU BETTER FIX THIS" but nah nah nah.
Fortunately, the next book will be released THIS YEAR. Unfortunately, I'm not sure whether I'll be able to buy it ASAP. And I don't practice the art of pre-ordering.
Overall, I love the book and I just couldn't wait to get my hands on the next one. A truly entertaining and amazing book. Having no idea what A Thousand and One Night is or what happened or what it's all about did not, and will not, stop me from loving the book.