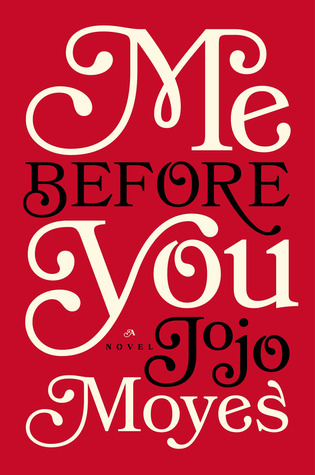 Title: Me Before You (Me Before You, #1)
Author: Jojo Moyes
Format: eBook
Date Published: December 31, 2012 by Pamela Dorman Books/Viking
Rating: ⭐⭐⭐⭐⭐
Synopsis: Lou Clark knows lots of things. She knows how many footsteps there are between the bus stop and home. She knows she likes working in The Buttered Bun tea shop and she knows she might not love her boyfriend Patrick.
What Lou doesn't know is she's about to lose her job or that knowing what's coming is what keeps her sane.
Will Traynor knows his motorcycle accident took away his desire to live. He knows everything feels very small and rather joyless now and he knows exactly how he's going to put a stop to that.
What Will doesn't know is that Lou is about to burst into his world in a riot of colour. And neither of them knows they're going to change the other for all time.
(taken from goodreads)
After reading the book, I was like:
When I finally got the chance to read the book, I was more excited than scared. I was well aware of the fact that it might hurt my feelings or play with my emotions because duh, movie trailer. But, I got too confident I failed in the end.
Unsurprisingly, I enjoyed the book a lot no matter how much it hurt and broke me after reading it. It was easy to connect with the character, Louisa Clark. She had problems at home, which were very relatable. Her financial problems and the feeling like she doesn't belong really got me, and I cried hard.
I did not just find the book entertaining, but also inspiring. Will making Lou try new things and widening her horizon or getting out of her little box was inspiring.Again, I cried hard. It was hard not to because I felt emotions, like Will was actually there. Telling me what she told Lou. It was amazing how Lou changed in a period of six months.
I cried a lot while reading. I tried not to but my tears just fell from my eyes no matter how hard I tried to stop it. Although heartbreaking, I still think of it as a very good read. At first, I thought it would be focused solely on Will's condition but it didn't. It had a broader scope, and dealt with things other than Will being quadriplegic.
Overall, I LOVED THE BOOK. Yes, I cried. Yes, I had my heart broken but it was entertaining. Satisfying. Heartbreaking. And a major tear-jerker.