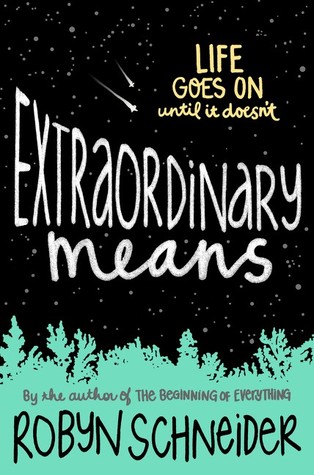 Title: Extraordinary Means
Author: Robyn Schneider
Format: eBook
Release Date: May 26, 2015 by Katherine Tegen Books
Synopsis: From the author of The Beginning of Everything: two teens with a deadly disease fall in love on the brink of a cure.
At seventeen, overachieving Lane finds himself at Latham House, a sanatorium for teens suffering from an incurable strain of tuberculosis. Part hospital and part boarding school, Latham is a place of endless rules and confusing rituals, where it's easier to fail breakfast than it is to flunk French.
There, Lane encounters a girl he knew years ago. Instead of the shy loner he remembers, Sadie has transformed. At Latham, she is sarcastic, fearless, and utterly compelling. Her friends, a group of eccentric troublemakers, fascinate Lane, who has never stepped out of bounds his whole life. And as he gradually becomes one of them, Sadie shows him their secrets: how to steal internet, how to sneak into town, and how to disable the med sensors they must wear at all times.
But there are consequences to having secrets, particularly at Latham House. And as Lane and Sadie begin to fall in love and their group begins to fall sicker, their insular world threatens to come crashing down.
Told in alternating points of view, Extraordinary Means is a darkly funny story about doomed friendships, first love, and the rare miracle of second chances.
(taken from goodreads)
Prior to reading the book, my mind was set that tuberculosis (TB) had a cure. Just a continuous medication for 6 months, consistency then boom. Actually, I just asked my parents if that's true then they said yes. Soooo, when I first picked up the book, I was kind of having second thoughts PLUS Robyn Schneider kind of disappointed me with The Beginning of Everything because it did not suit my taste. Thankfully, I did not have such bad experience with Extraordinary Means.
The book was divided into two different perspectives: Lane and Sadie. They both met at a summer camp when they were kids and met again at Latham House, which is basically a boarding school for teens with tuberculosis. Lane was this very school-nerd guy and Sadie was part of this group at school which normally just breaks the rules. At first, I found it insane that teens were being sent to Latham House. Teens with tuberculosis were being crowded there and being taught, like a school, like they never left. But of course they did.
The book was a quick read. It was easy to get onto the story because the characters weren't really very suicidal and they were just like any other teenagers of any other teen related novels. What made me sad about the book is that the people act like people with tuberculosis are monsters. It's sad how people just view them like that, but maybe I am too. But they didn't really choose their path and it wasn't their fault.
The way the book was written made it easy to read the book and devour its words. I actually imagined myself as a part of the book. There were sad parts, yes (and it was so awkward because I was reading it at school and at a public transportation and that was when I read the sad parts and I had to hold some tears back). My favorite character may be Charlie, though he wasn't really given much emphasis.
Overall, I liked the book and glad that it did not disappoint me – I had doubts whether to read it or not because I really did not like The Beginning of Everything but later on realized it was a different book and should give her a chance. Extraordinary Means made me relive my love for books with sad ending because they normally turn out better than those with happy endings. To me.