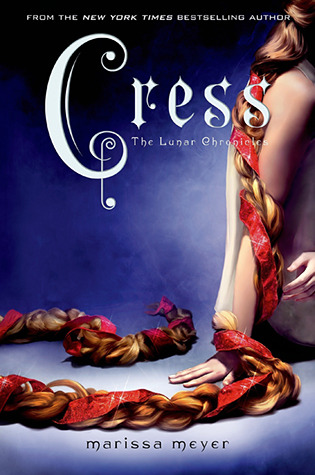 Title: Cress (The Lunar Chronicles #3)
Author: Marissa Meyer
Format: Paperback
Release Date: February 4, 2014 by Feiwel & Friends
Synopsis: In this third book in the Lunar Chronicles, Cinder and Captain Thorne are fugitives on the run, now with Scarlet and Wolf in tow. Together, they're plotting to overthrow Queen Levana and her army.
Their best hope lies with Cress, a girl imprisoned on a satellite since childhood who's only ever had her netscreens as company. All that screen time has made Cress an excellent hacker. Unfortunately, she's just received orders from Levana to track down Cinder and her handsome accomplice.
When a daring rescue of Cress goes awry, the group is separated. Cress finally has her freedom, but it comes at a high price. Meanwhile, Queen Levana will let nothing prevent her marriage to Emperor Kai. Cress, Scarlet, and Cinder may not have signed up to save the world, but they may be the only hope the world has.
(taken from goodreads)
Friends. She squinted at the chip as she held it up, wondering if that was the right word. It felt like having friends, especially after they'd survived the mission together. But then, she didn't have anything to compare this mission to.
MINDBLOWN. Well, that was nicely handled. Cress, indeed, is a page-turner. It was hard to put down and I just wanted to go on reading for as long as I could. It was action-packed – my heart went thump, thump from the moment they tried to rescue Cress up until Cinder said her last line in the book. It was really enjoyable and made me look forward the next chapters. And even the next book!
Once again, I was introduced to a new character – Cress. She was locked up in a satellite for seven years and was an excellent hacker. Being locked in a prison she practically designed, she was not able to cut off her hair so it grew longer. (Yep, RAPUNZEL!)
I found it amazing how Marissa Meyer were able to connect every characters, based off on different characters from the fairytales we surely grew up with. Apparently, I was sad because I liked Scarlet but in this book, she was given only little focus. What made me happy was I proved to myself that Wolf loved Scarlet, although they met in a really short period of time. She was his alpha, the brightest star.
Kai and Cinder, likewise, never failed to amuse me and make me swoon. While the pair seemed unlikely – an emperor and a fugitive cyborg – I love these two together and if I could, I would help them overthrow Levana and even be the priest on their wedding.
Thorne and Cress were my favorite pair. When they were separated from the group after the failed attempt to rescue Cress, I love how these two survived together. Thorne, in my opinion, should actually be the one being credited. He was funny, although he was blind then. I love everything about him, though he did some things. But, when asked if Thorne or Kai, the answer I guess would be clear.
Overall, I loved Cress just as much as I loved Scarlet and Cinder. I love the action in its story and not only that, but I was able to feel the characters' emotions as well. I could sympathize for the characters and I even teared up a little bit. Maybe enough to fill a teacup. BUT THAT ENDING THOUGH. IT SHOULDN'T HAVE ENDED LIKE THAT WHY, WHY, WHY? I wish I had the last book in my hands but noooooooooooooo. I am so curious to know how will it end, and what will happen to the characters!
I am so glad I came across this book. It's worth my time and I am very much happy I spent the day reading it, though the ending. Looking forward to the last book!