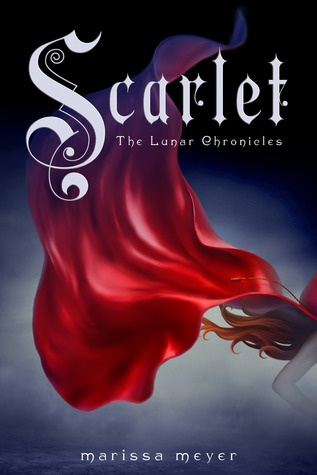 Title: Scarlet (The Lunar Chronicles #2)
Author: Marissa Meyer
Format: Paperback
Release Date: February 5, 2013 by Feiwel & Friends
Synopsis: Cinder, the cyborg mechanic, returns in the second thrilling installment of the bestselling Lunar Chronicles. She's trying to break out of prison—even though if she succeeds, she'll be the Commonwealth's most wanted fugitive.
Halfway around the world, Scarlet Benoit's grandmother is missing. It turns out there are many things Scarlet doesn't know about her grandmother or the grave danger she has lived in her whole life. When Scarlet encounters Wolf, a street fighter who may have information as to her grandmother's whereabouts, she is loath to trust this stranger, but is inexplicably drawn to him, and he to her. As Scarlet and Wolf unravel one mystery, they encounter another when they meet Cinder. Now, all of them must stay one step ahead of the vicious Lunar Queen Levana, who will do anything for the handsome Prince Kai to become her husband, her king, her prisoner.
(taken from goodreads)
"I think I realized that I would rather die because I betrayed them, than live because I betrayed you."
After reading Cinder, a thought instantly popped inside my head: I had to read Scarlet. So, I did. But I had a rough start and the book didn't seem to appeal to me yet so I put it down for a little while (about 2 days) and when I picked it up again, it appealed to me very much and I absolutely loved it!
The story was focused on Scarlet who was in France and Cinder who… well, she was a fugitive. It was really interesting and I was so excited to find out why Cinder and Scarlet's paths will cross. When I found out, I screamed like a crazy old dude.
In Scarlet, I was introduced to new characters: Scarlet, Wolf, and Thorne. Scarlet was this pretty girl who lived with her grandmother and when her grandmother went missing, searched for her. Of course you know. Wolf, on the other hand, is this streetfighter who happened to have an idea as to where Scarlet's grandmother might be. Lastly, Thorne is this funny cadet who preferred to be called Captain. He too, was a fugitive along with Cinder.
Although the number of characters were increasing and the setting seemed to increase its scope, it did not confuse me but it made me enjoy the book even more. Emperor Kai wasn't really, really focused in the book which is kind of sad because I like him! But on the parts where he was there, those were really essential and need not be looked over.
Overall, Scarlet is a fast-paced novel which includes action and a little bit of romance. I totally love it! Marissa Meyer pulled the novel really well and exceeded my expectations. Sadly, I haven't read or watched Little Red Riding Hood so I could not quite point out parallels in the book. But, that does not make the story less interesting. I just do not know when the last time I loved a second book was but it just happened that I loved this one.