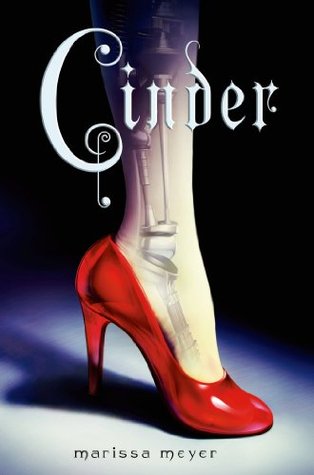 Title: Cinder (The Lunar Chronicles #1)
Author: Marissa Meyer
Format: Paperback
Release Date: OctoberJanuary 3, 2012 by Feiwel & Friends
Synopsis: Humans and androids crowd the raucous streets of New Beijing. A deadly plague ravages the population. From space, a ruthless lunar people watch, waiting to make their move. No one knows that Earth's fate hinges on one girl.
Cinder, a gifted mechanic, is a cyborg. She's a second-class citizen with a mysterious past, reviled by her stepmother and blamed for her stepsister's illness. But when her life becomes intertwined with the handsome Prince Kai's, she suddenly finds herself at the center of an intergalactic struggle, and a forbidden attraction. Caught between duty and freedom, loyalty and betrayal, she must uncover secrets about her past in order to protect her world's future.
(taken from goodreads)
"Cinder." A condescending laugh. "How fitting. Ashes. Dirt. Filth."
Wow. Just wow. Now that's what I'm talking about!!! I spent the whole day on bed, alternately reading Cinder and sleeping. It was a really good book plus a quick read. I love it, truly! An amazing retelling of a classic tale set in the future. What can I say? It's my favorites, combined!
I actually started reading the book over a month ago but I was just adjusting to changes. It was written third person's POV and I mostly have read ones written in the first person. But, the second time I tried reading Cinder did not fail me! In fact, I finished it quickly.
I loved how the story went. I found it unique except for the plague, as I have read few books that talked about deadly virus spreading around. Apart from that, Marissa Meyer did an enchanting job in writing her novel. I loved how the book combined classic tale and modern technologies. While it seemed weird at first, it just got better the more I dived in. The book also made my imagination go as far as to the galaxy. I found their time amazing, traveling back and forth through the moon. Cool.
Prince Kai is also so adorable. In fact, I have a picture of him in my mind:
I'm pretty sure that that guy does not exactly look like Prince Kai but being their fan for quite some time made me use his image everytime Prince Kai comes into the scene.
The ball was the part I've waited. While reading, I was just like, I wonder who Cinder's fairy godmother here will be. Although I didn't get exactly what I wanted, the scenes played out really well and I can't help but shout. I had to hit my head (lightly) against the wall as I try to swoon over the image of Cinder being in the Prince's Personal Guest List and her dancing with the Prince. It felt really magical to me!
Queen Levana, oh that woman. I really wanted to stab her eyes! That brainwashing bitch! She thinks so highly of herself, eww. I hate her so much. Aaaaaannnndddddddddddd. I just couldn't wait to read the other books to find out what's going to happen to Cinder, after knowing the truth!
Overall, Cinder was an amazing book. No joke. I love everything and I was glad I read it from the first page rather than continuing where I left off the first time I tried reading it. I appreciated this more than the first attempt. It was a good book that just deserves to be read and applauded.