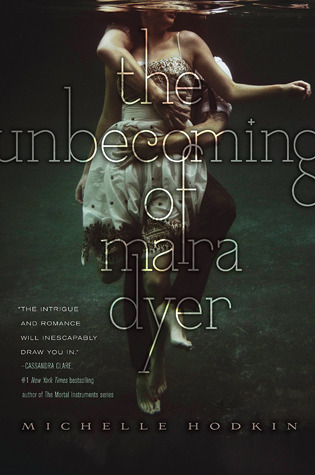 Title: The Unbecoming of Mara Dyer (Mara Dyer #1)
Author: Michelle Hodkin
Format: Paperback
Release Date: October 23, 2012 by Simon & Schuster Books for Young Readers
Synopsis: Mara Dyer doesn't think life can get any stranger than waking up in a hospital with no memory of how she got there.
It can.
She believes there must be more to the accident she can't remember that killed her friends and left her mysteriously unharmed.
There is.
She doesn't believe that after everything she's been through, she can fall in love.
She's wrong.
(taken from goodreads)
He would kiss me, right now, after everything I'd done. I was poison, and Noah was the drug that would make me forget it.
BOOM. My heart went BOOM!
Months ago, I was able to find and read the first chapter from the internet. After that, I knew I needed to read the book. So I did. It wasn't a hard read at all – The Unbecoming of Mara Dyer drowned me with its words, and I didn't know I was halfway already. It was an exciting read. Spooky, as I was never a fan of dead person. Or dead persons. Reading the book without having the other volumes? I must say it's a bad idea.
After reading The Unbecoming of Mara Dyer, I'm not entirely sure how to fix my feels. It was a really, really good read. Interestingly scary. The more I flipped through pages, the more things got heated. Whatever was happening to Mara was scary, honestly. Who likes a ghost staring back at you when you look at the mirror? If I were in Mara's situation, I might've lost my mind more than I already had. When Mara met Noah Shaw and knew the secret he had, I just wanted to go on reading the story. To know what had happened and what will happen.
I have a love-hate relationship in an insta-love situation. Sometimes I love it, sometimes I hate it to the point that I just want to throw the book. But, in The Unbecoming of Mara Dyer, I ABSOLUTELY, TOTALLY, SERIOUSLY LOVED IT. I want my own Noah Shaw. I'd probably love him from the day I'll lay my eyes on him. Seriously. With the British accent? He'll probably even melt me.
Overall, it was an amazing book. It was easy to devour, and Michelle Hodkin wrote the book perfectly (not to mention using the word perfect too many times). Creepy, yes, but the kind of creepy that sets my hype! I am definitely looking forward to reading the next books. The last page totally stunned me. I can't help but want to read the next ones.