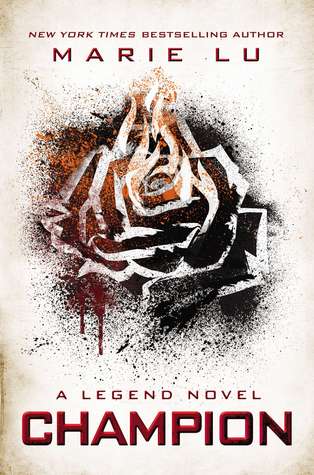 Title: Champion (Legend #3)
Author: Marie Lu
Format: Paperback
Release Date: November 5, 2013 by Putnam Juvenile
Synopsis: He is a Legend.
She is a Prodigy.
Who will be Champion?
June and Day have sacrificed so much for the people of the Republic—and each other—and now their country is on the brink of a new existence. June is back in the good graces of the Republic, working within the government's elite circles as Princeps-Elect, while Day has been assigned a high-level military position.
But neither could have predicted the circumstances that will reunite them: just when a peace treaty is imminent, a plague outbreak causes panic in the Colonies, and war threatens the Republic's border cities. This new strain of plague is deadlier than ever, and June is the only one who knows the key to her country's defense. But saving the lives of thousands will mean asking the one she loves to give up everything.
With heart-pounding action and suspense, Marie Lu's bestselling trilogy draws to a stunning conclusion.
(taken from goodreads)
I can't quite explain what I felt right after I read the book. I had a mixed emotions, but I would not hide the fact that I cried a lot. Damn it.
I started reading Champion after reading Prodigy because seriously, who could get a good night's sleep right after that ending? I was quite happy when I got my nose buried in the book – but I was only a few pages from the first one when I already had tears on my eye. The more I dived deeper in the book, the more intense it got. I had to hold my tears back, especially during those last few pages, as I was afraid someone might see me and think I'm crazy.
The story started eight months later where Prodigy left us. Funny how June and Day were separated from each other longer than they knew one another. To be honest, the book made me hate Anden. I had a lot of reasons to hate him – especially when I ship June and Day! Obviously, he liked, or loved, June Iparis. And… he was asking June a favor, a favor which I hated, up until now! I thought of it as selfish. Maybe not, as it was for the good of the Republic – but what good did the Republic did to Day? That was what got me.
I had a traumatic experience once, reading a book where the character meets his (or rather, her) dead mother in an almost dying situation. (I'm talking about Allegiant, y'all). It broke my heart into a million pieces. I hoped I had my heart prepared that I would be reading yet another book like that again. I now have my heart broken into 1.5 million pieces. Sometimes I wish it could be converted into money. Lol!
I would be lying if I said I liked it, because I loved it. It was insanely amazing. I cried a lot, yes, but it was worth the tears. But I can't believe I spent 1, 197pesos all for that ending. Oh my gods, you have no idea what the ending did to me. It drove me crazy. I was crying, and just thinking about it makes me tear a little bit. I can't believe that that's it.
Overall, I loved Champion. I never really thought I would love it because: the first two books were an okay read – not the best ones I have read but I still liked it; and, the ending was the bomb. The cover was a plus factor, it was cute. Among the books, this was my favorite cover. Okay, you should read this but when you're a sucker for happy endings, then brace yourself!