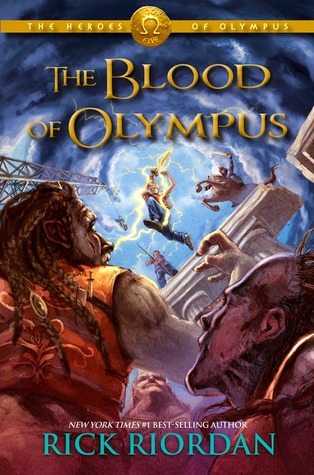 Title: The Blood of Olympus (The Heroes of Olympus #5)
Author: Rick Riordan
Format: eBook
Release Date: October , 2014 by Disney-Hyperion Books
Synopsis: Though the Greek and Roman crewmembers of the Argo II have made progress in their many quests, they still seem no closer to defeating the earth mother, Gaea. Her giants have risen—all of them—and they're stronger than ever. They must be stopped before the Feast of Spes, when Gaea plans to have two demigods sacrificed in Athens. She needs their blood—the blood of Olympus—in order to wake.
The demigods are having more frequent visions of a terrible battle at Camp Half-Blood. The Roman legion from Camp Jupiter, led by Octavian, is almost within striking distance. Though it is tempting to take the Athena Parthenos to Athens to use as a secret weapon, the friends know that the huge statue belongs back on Long Island, where it "might" be able to stop a war between the two camps.
The Athena Parthenos will go west; the Argo II will go east. The gods, still suffering from multiple personality disorder, are useless. How can a handful of young demigods hope to persevere against Gaea's army of powerful giants? As dangerous as it is to head to Athens, they have no other option. They have sacrificed too much already. And if Gaea wakes, it is game over.
(taken from goodreads)
"Seven half-bloods shall answer the call,
To storm or fire the world must fall.
An oath to keep with final breath,
And foes bear arms to the Doors of Death."
Oh my gods. I just finished the best book I have read. Yet. I had a mixed emotion after reading the book: sad, happy, frustrated, in love. But I must say, this book is an absolute perfection. I love it so, so much. A literal unputdownable book. The character developments are so recognizable, and I loved it! Reading the book made me cry a river, but it wasn't a waste of tears.
When I saw its Table of Contents, there goes Nico's name. I was like, Oh great! A POV from Nico. I would definitely love it. And guess what? I did. I almost wished that every chapter should've been Nico's POV. Almost. But the book was divided into different point of views, different scenarios, which made it a really great one. The adventures, their battles, sweet talks. Almost everything went well in the book.
I enjoyed the book. A lot! It's perfectly written and the words are wonderfully picked – the demigods faced so many monstrous creatures and near-death scenarios – and I don't recall anyone saying fuck or shit or something like that. However, it's just hard to know all the gods and other creatures in the book because there's too many of them and I could not even pronounce their names correctly.
The Blood of Olympus is not only filled with actions, as well as romance. It went perfectly well in the story. Jason and Piper, my least favorite couple, were better than the books before but they're still my least favorite. Apart from that, the book is also funny, witty. It had me laughing for like a minute or so. Oh, wait. Those lines still got me right now.
Here are some of those:
"My heroes", said the goddess.
"Hera," Piper said.
"Juno," Jason corrected.
"Whatever." Annabeth grumbled.
---
"Never before have I been so harassed by one of my sons. Percy this and Percy that. I nearly blasted you to Cinders."
[…]
"I can entertain the possibility that you acted for multiple reasons." 
---
He looked over at the silver pocketknife in his hand. An idea came to him – possibly the stupidest, craziest idea he'd had since he thought, Hey, I'll get Percy to swim to the River Styx! He'll love me for that!
---
"Oh, come on!" Percy complained. "I get a little nosebleed and I wake up the entire earth? That's not fair!"
---
I cried a lot while I was reading. And then, the last chapter happened! Oh gods, I felt my heart beating so, so fast. I did not see that coming! Oh gods. After reading, I was singing Best Song Ever by One Direction but changed the lyrics: And I cried all night but it's the best book ever!, because it literally is.
Obviously I loved the book. Rick Riordan is a genius. Any argument is invalid. Why I read the series just this year? Oh I don't know. But no regrets. I love it so much. 10 over 5 stars because it is absolutely, definitely, totally perfect. Err, I'm having the book hangover…