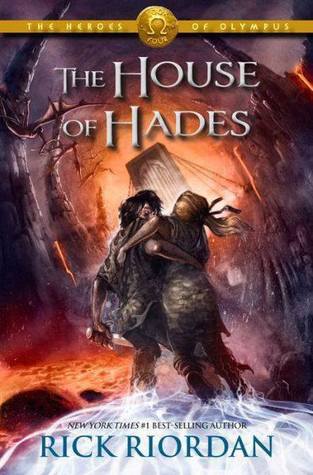 Title: The House of Hades (The Heroes of Olympus #4)
Author: Rick Riordan
Format: eBook
Release Date: October 8, 2013 by Disney-Hyperion Books
Synopsis: At the conclusion of The Mark of Athena, Annabeth and Percy tumble into a pit leading straight to the Underworld. The other five demigods have to put aside their grief and follow Percy's instructions to find the mortal side of the Doors of Death. If they can fight their way through the Gaea's forces, and Percy and Annabeth can survive the House of Hades, then the Seven will be able to seal the Doors both sides and prevent the giants from raising Gaea. But, Leo wonders, if the Doors are sealed, how will Percy and Annabeth be able to escape?
They have no choice. If the demigods don't succeed, Gaea's armies will never die. They have no time. In about a month, the Romans will march on Camp Half-Blood. The stakes are higher than ever in this adventure that dives into the depths of Tartarus.
(taken from goodreads)
"Bob says hello".
OH MY GODS. I so freaking love this book. This is the best book of the series yet! It was an easy and enjoyable read. I love everything in the book: the way it was written, the characters, the plot, and most especially the character developments.
Jason and Piper is still my least favorite pair in the series. But I kinda like how these two improved in the book, most especially Piper who used to be the beauty queen in the first book. I'm also glad that Frank finally trusted Leo. It's hard to be on a big, big ship with people you can't trust. Leo, of all, had changed a lot! After being stranded in an island with a girl, he has changed quite a lot. Wow, although I hope we still get the old witty Leo. Nico, oh Nico. That big secret of his, it made me love him even more. Leo might have changed a lot but still, Nico is the one who changed the most from his first appearance in The Titan's Curse to this book.
Percy and Annabeth… oh gods, these two. They're brave and smart and obviously in love with each other. Getting plunged into Tartarus alone was bad enough, but having each other probably made it a little bit lighter.
The book still alternates from different perspectives, taking us into a trip to Tartarus and as well as the world above. Unsurprisingly, I love the book and am dying to read more. Rick Riordan wrote the book very well. The House of Hades is a very compelling book, drawing the reader in from the first page to the last.