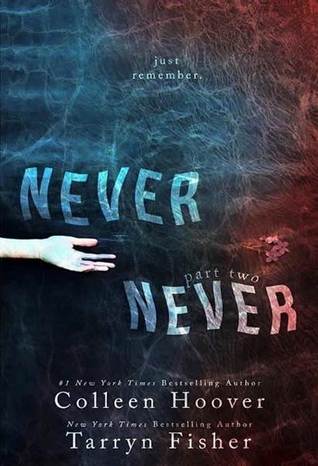 Title: Never Never: Part Two (Never Never #2)
Author: Colleen Hoover and Tarryn Fisher
Format: eBook
Release Date: May 17, 2015
Synopsis: "Never forget that I was your first real kiss. Never forget that you'll be my last.
And never stop loving me between all of them.
Never stop, Charlie.
Never forget."
Silas races against time as more truths unravel, while others twist tighter together. And now, the stakes are higher as Silas' control slips and others begin to point fingers. Charlie is in trouble and he must be the one to bridge the chasm between their past and their present. Because somewhere between I love yous and Never Nevers and Never Agains, a truth they can't imagine, beckons to be found.
"Where are you, Charlie?"
(taken from goodreads)
HOLY MOTHER OF SHEEPS. I am totally annoyed with how this book ended. Seriously, the authors are so cruel to leave me hanging… again! But, tbh, I liked it better than the part one.
Charlie and Silas both have no memories. Part two started a few hours later where part one left us. I like how things were going. Although still clueless, at least Silas managed to go over the notes he saw and Charlie's journals to have the slightest clue what on earth is happening.
Things were happening so fast, considering the fact that Silas got only 48 hours to figure out where's Charlie before they both forget who they are once again. Charlie's situation didn't make things better. And considering that she hadn't the slightest clue about what happened and who she is, there is definitely no way she could answer my whys.
The last parts though… I freaked out!!! Charlie and Silas were ready. I was ready. They're only a minute away from not remembering anything. Then boom!!!!!
I don't really think I have that much to say. Just give me the third part right now! Cruel, cruel authors. Leaving the readers with to be continued... for the second time. Please know that it hurts.