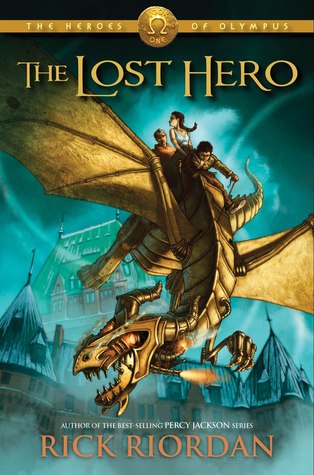 Title: The Lost Hero (The Heroes of Olympus #1)
Author: Rick Riordan
Format: eBook
Release Date: October 10, 2010 by Disney Hyperion
Synopsis: Jason has a problem. He doesn't remember anything before waking up on a school bus holding hands with a girl. Apparently he has a girlfriend named Piper. His best friend is a kid named Leo, and they're all students in the Wilderness School, a boarding school for "bad kids", as Leo puts it. What he did to end up here, Jason has no idea — except that everything seems very wrong.
Piper has a secret. Her father, a famous actor, has been missing for three days, and her vivid nightmares reveal that he's in terrible danger. Now her boyfriend doesn't recognize her, and when a freak storm and strange creatures attack during a school field trip, she, Jason, and Leo are whisked away to someplace called Camp Half-Blood. What is going on?
Leo has a way with tools. His new cabin at Camp Half-Blood is filled with them. Seriously, the place beats Wilderness School hands down, with its weapons training, monsters, and fine-looking girls. What's troubling is the curse everyone keeps talking about, and that a camper's gone missing. Weirdest of all, his bunkmates insist they are all—including Leo—related to a god.
(taken from goodreads)
Wow, yet another series from Rick Riordan (although yeah I know I'm very late)! But this time, I got to meet new characters, new demigods: Jason, Piper, and Leo. Jason, the one who woke up having no memories who he is. Piper, the beauty queen. Leo, the flaming Valdez. The three were sent to a quest to save the goddess Hera.
What did I like? Everything. YES! But what I liked, or loved the most is when everybody's addressing Percy as Annabeth's boyfriend.
Butch hesitated. "Annabeth's okay. You gotta cut her some slack. She had a vision telling her to come here, to find a guy with one shoe. That was supposed to be the answer to her problem."
[…]
"Her boyfriend." Butch said. "A guy named Percy jackson."
—-
"Him?" Leo said. "Who are you talking about?"
"My boyfriend." Annabeth said grimly.
OH DON'T YOU JUST LOVE PERCABETH but I gotta stop talking about them here. Really.
Anyways, I kinda miss those titles of the chapters in the PJO series. In The Lost Hero, the chapter number is being followed by the character's name. But I still love how Rick Riordan wrote the book. Things got more intense as I move on from one chapter to another.
I also loved how finally someone asked about everybody being cousins in here or how is it possible that gods and godesses had so many children whose age is very close to each other. FINALLY! At least I'm no longer that puzzled because really though, how is that possible?
Funny how when you're a demigod on a quest, you always get to meet monsters or gods or some creatures on your way. Who could you trust?!?!?! Seriously. And that little twist about the Roman camp though, wow. So that's why Jason calls every gods and goddesses in their Roman names. Ohh. It was pretty surprising and made the story more interesting.
The ending. THE ENDING! Why are the books I've been reading recently ends in a "it shouldn't have ended like that" way? But I'm not including this book to those whose ending annoyed me. It just made me want to read more! I'm not even a fan of Greek Mythology (let's include Roman, now) but I am totally loving it. Looking forward to reading the next books!!!