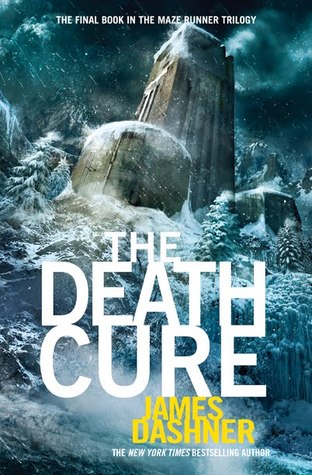 Title: The Death Cure (The Maze Runner #3)
Author: James Dashner
Format: eBook
Release Date: October 11, 2011 by Delacorte Press
Synopsis: It's the end of the line.
WICKED has taken everything from Thomas: his life, his memories, and now his only friends—the Gladers. But it's finally over. The trials are complete, after one final test.
Will anyone survive?
What WICKED doesn't know is that Thomas remembers far more than they think. And it's enough to prove that he can't believe a word of what they say.
The truth will be terrifying.
Thomas beat the Maze. He survived the Scorch. He'll risk anything to save his friends. But the truth might be what ends it all.
The time for lies is over.
(taken from goodreads)
My head is still hurting after reading such painful book. I know that The Maze Runner did hurt me but not as much as The Death Cure did. The character I loved, the character I disliked. They both meant something to me but they're gone. Things were happening so fast I could not believe I finished the book at a shorter span of time than I'd expected. I loved it. A lot, no matter how many deaths had to happen just to get this book over. I might've enjoyed the book but I couldn't help but feel sad and down. So many deaths but there wasn't an actual cure.
WHAT I LIKED:
* Writing style.
James Dashner, once again, did not fail to impress me with his writing style. He tells a story in a way that it feels like he's transporting me to the other world.
* Teresa's development.
I definitely and clearly stated in my Scorch Trials review that I no longer like her, blablabla. True, but after reading The Death Cure, I realized that she really did what she had to do. Although I did not trust her, I'm still sad after what happened to her (RIP).
* Action-packed.
So this totally got me holding my breathe. Really! Through words, James Dashner was able to make me feel as if I'm part of the book, like I was there during the fights and the explosion.
* Thomas' love for Newt.
He wouldn't have done that if he did not love his friend. As simple as it may seem, I think it's really hard on Thomas' part but I saw this the other way: Newt wouldn't go to the phase where he's no longer Newt. He saved his friend from a terrible phase, he ended his pain.
WHAT I DID NOT LIKE:
* The ending.
Wow, I really could NOT believe it ended just like that. After everything that's happened, that's it? I was just crying in this part. Why didn't they just do it in the first place? Why did they have to waste so many lives? Take away children from their parents? I hoped for a better ending, but that's that. Apparently.
* Brenda and Thomas.
I seriously DO NOT like these two together. I don't know, I just don't.
I love the book. It made me realize how lucky I am not to live in a world like they have, to have memories of my past no matter how bitter they are and to know who my parents are. Rest in peace to everyone who died but I seriously love how the story goes, but not where it went. An amazing read, but it only makes me want more. What do I do? No idea.
OH MY GOD YOU DID NOT JUST END IT LIKE THAT
And… Newt.
Teresa!
I WAS CRYING. MY HEAD HURTS AFTER READING SUCH PAINFUL BOOK.